Lets know How to Find the Best Quality Pet Preform in India
A preform is a product that is blown into a polyethylene terephthalate (PET) container after being produced as an intermediate product. Quality Preforms in India are specifically created to fulfill the needs of customers in various market areas and vary in neck finish, weight, color, and shape.
Preforms are known as PET preforms because they are made of polyethylene terephthalate (PET). They are manufactured by TRIVENI SANGAM TECHNOPACK PVT LTD the Best Pet Preform Suppliers in India utilizing a highly accurate injection moulding procedure on gear from the top global suppliers.
Preform weight is determined by the required volume of the finished container. Preforms come in single- and multi-layer varieties. Barrier preforms extend the shelf life of beverages and offer additional advantages since a unique layer is included into many layers of polyethylene terephthalate.
Widely Used Types of Best Quality Pet Preforms
PCO
For Beverages Bottles Like,
Soda, Juices, Etc.
---
CTC
For Oil Bottles Like, Mustard /Sunflower/Sesame Oil, Etc.
---
ALASKA
For Water Bottles
---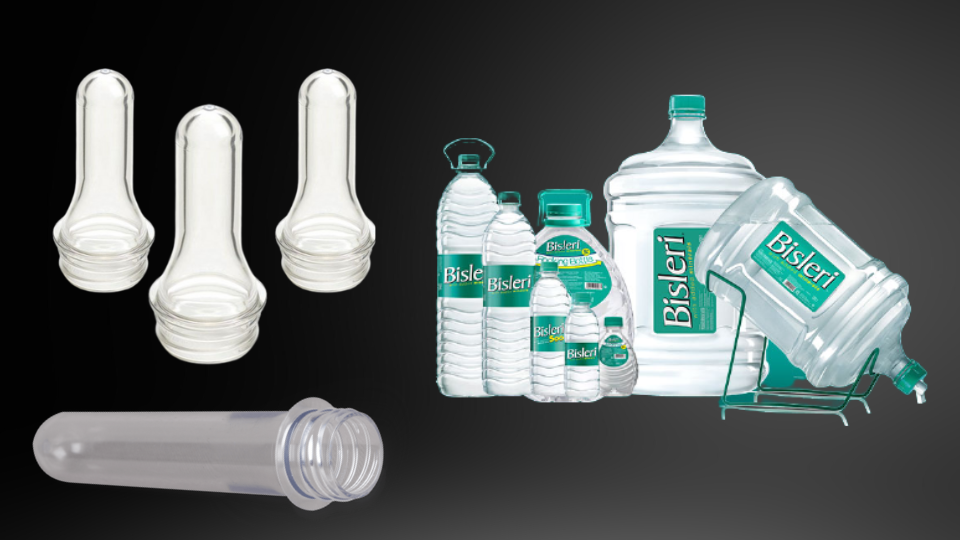 The Best PET preform maker in India, also known as preform, is made via a moulding process. As soon as fused PET is injected into a mould, it transforms into a preform, which is then further processed (blown) into bottles for liquids like beverages, oil, or detergents.
A preform is created by a "finish" (bottleneck), which remains constant during the blowing process.
The "finish" diameter and thread type of the preform determine the type of screw bottle cap and the application for the bottle, respectively (for still water, sparkling water, oil, milk).
On the other hand, the diameter, length, and shape are the main factors that define the basic properties of the blown container; the tubular structure will form the bottle during the blowing and moulding procedures and will determine the foundation weights of the finished product.
The PET polymer used to create preforms has no colour and is almost transparent, but it can be dyed in a range of hues to match customer requirements when combined with colourant additives.
Triveni Group is specializes in producing Best Quality Pet Preform in India.
Why use PET preform, you ask?
Mineral water, juices, alcoholic beverages, soft drinks, carbonated beverages, culinary oils, pharmaceuticals, pickles, jams, and consumer goods are just a few of the products that can be packaged using Best Quality PET preform in India.
Follow us on Social Media for the for Latest Updates