Triveni Sangam Technopack Pvt. Ltd.
Premium Quality PET Preform Manufacturers
Alaska Neck Pet Preform for Water Bottles | PCO Neck for soda bottle | CTC Neck Preform & more
PET Preform That Performs For You
Established in the year 2010, we, "Triveni Sangam Technopack (Pvt.) Ltd.", are a well known Pet Preform Manufacturers In Delhi & Pet Preform Manufacturers In India.
With consistent quality production, hard work and latest upgraded technology, we have become one of the leading Pet Preform Manufacturers In Delhi & Pet Preform Manufacturers In India . At present we have several manufacturing units all over Delhi. Our infrastructure is facilitated with highly sophisticated machines that are installed at various locations. Injection moulding technique is employed by us to produce a varied range of products that are defect -free. 
We consider all possible measures to provide client's with maximum value for their money. TSTPL has continually grown with regular investments and has constantly moved ahead with true spirit of enterprise and excellence.
To be the BEST QUALITY PET PREFORM MANUFACTURERS, we used high quality resins. Along with that we use world class machines and follow international quality standards.
We Currently manufacture PET Bottle Preform in 28 mm Neck size in Alaska neck pet preform , CTC & PCO neck preform for pet bottles for Water, Juice or Carbonated Sugar Drinks & Edible oil Bottles.
We are one of the largest suppliers in FMCG industry and have a production capacity of 24 million PET Preform per annum.
Looking for "PET Bottle Preform" ? We are the Best PET Preform Manufacturers in India / PET Preform manufacturers in Delhi
We are the industry leaders,  PET Preform Manufacturers and Supplier on a Pan India level.  
Our Pet Preform Product Range
PCO Preform
PCO Preform is used for Juice/CSD bottles
Weight- 10.3 Gm - 35 Gm
Volume - 160 ml - 1 Ltr Bottle
Alaska/ TST Preform
Alaska/CTC Preform is used for Water bottles.
Weight - 9 Gm - 33 Gm
Volume - 200 ml - 2 Ltr Bottle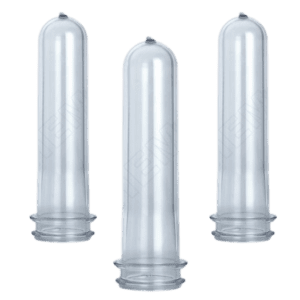 CTC Preform
CTC Preform is used for Edible Oil bottles.
Weight - 9 Gm - 23 Gm
Volume - 200 ml - 1 Ltr Bottle
Why Choose Triveni Sangam Technopack?
Reduce Your Blowing Cycle, Increase Your Profits
As a result of constant Research & Development, We now bring you the High Quality and perfectly optimized PET Preforms for reducing your Blowing Cycle. We ensure have a consistent intrinsic value which results in uniform stretching of the bottle. We only use 100% virgin resins for manufacturing which will result in 0 rejections. Along with that our product is designed in such a way that it will consume 7.3% Less energy which also helps you to get better profit.
Some of Our Esteemed Clients